Summary
Market Review
We bid a fond farewell to 2020 with hopes that 2021 might be a 'quieter' year. January, however, had other designs. During the first week of the month, protesters stormed the United States Capitol, leading to violence, the disruption of the presidential election certification, and several deaths. Nevertheless, the inauguration of Joe Biden as our 46th president took place as scheduled. January also saw the emergence of virus mutations, the uneven distribution of COVID-19 vaccines, and the gradual relaxation of pandemic-related restrictions.  Also during January, a new phenomenon in stock price manipulation emerged involving several companies, including the video-game company GameStop. Ultimately, stocks closed the month mixed, with the Russell 2000 and the Nasdaq gaining, while the Dow and the S&P 500 fell. Treasury yields, the dollar, and crude oil prices advanced.
Major equity indexes reached record highs in February, only to pull back by the end of the month. Fearful that inflationary pressures would mount, investors favored value stocks over growth, pushing small-cap and mid-cap stocks higher. Investors were encouraged by President Joe Biden's $1.9 trillion stimulus proposal, accelerated vaccine distribution, and better-than-expected fourth-quarter corporate earnings. By the end of February, each of the benchmark indexes listed here posted gains led by the Russell 2000, which advanced more than 6.0%. The yield on 10-year Treasuries continued to grow, crude oil prices pushed past $61 per barrel, and the dollar rose. Only 50,000 new jobs were added in February, although unemployment claims decreased.
Stocks continued to push higher in March. Several of the benchmark indexes posted noteworthy gains including the Dow (6.6%), the S&P 500 (4.2%), and the Global Dow (4.0%). The Russell 2000 (0.9%) and the Nasdaq (0.4%) advanced moderately. Among the sectors, industrials (8.1%), utilities (7.4%), consumer staples (6.5%), and materials (6.4%) led the way. Treasury yields and the dollar advanced, while crude oil prices and gold fell.
Overall, the first quarter was definitely eventful. Federal stimulus payments lined many pocketbooks, a group of amateur traders banded together to decimate some hedge funds, interest rates jumped, inflation fears mounted, and the stock market produced robust returns. The small caps of the Russell 2000 gained nearly 12.5%, the Global Dow climbed 9.4% and the large caps of the Dow (7.8%) and the S&P 500 (5.8%) posted solid gains. Tech shares, which had driven the market for much of 2020, slumped during the quarter, but still gained enough ground to push the Nasdaq up by almost 3.0%. Energy shares posted some of the biggest gains in the quarter, with the sector surging over 30.6%. Financials jumped (18.0%), followed by industrials (12.0%), materials (10.8%), and real estate (10.0%). Only information technology failed to advance by the end of the quarter. The yield on 10-year Treasuries climbed more than 80 basis points. Crude oil prices ended the quarter at $61.50 per barrel, well above the December 31 price of $48.52. The price of gold finished March at $1,708.40 per ounce, significantly below its December 31 closing value of $1,893.10 per ounce.
Economic Review
Employment: There were 379,000 new jobs added in February after only 49,999 new jobs were added in January. In February, the unemployment rate fell by 0.1 percentage point to 6.2%, and the number of unemployed persons decreased by 150,000 to 10.0 million. Although both measures are much lower than their April 2020 highs, they remain well above their pre-pandemic levels in February 2020 (3.5% and 5.7 million, respectively). Among the unemployed, the number of persons on temporary layoff decreased in February by 517,000 to 2.2 million. This measure is down considerably from the recent high of 18.0 million in April but is 1.5 million higher than its February 2020 level. The number of employed persons who teleworked in February because of the coronavirus pandemic edged down to 22.7%, 0.5 percentage point lower than January.
Claims for unemployment insurance continued to drop. According to the latest weekly totals, as of March 13, there were 3,870,000 workers receiving unemployment insurance benefits, down from the February 20 total of 4,419,000. The insured unemployment rate fell 0.4 percentage points to 2.7%.
FOMC/interest rates: The Federal Open Market Committee met in March. According to the Committee statement, employment has turned up recently and, despite investor concerns, inflation continues to run well below 2.0%. The Committee continues to hold interest rates at their current 0.00%-0.25% target range and expects no changes through 2023.
GDP/Budget: The gross domestic product advanced at an annual rate of 4.3% in the fourth quarter of 2020. The GDP increased 33.4% in the third quarter after contracting 31.4% in the second quarter. Consumer spending, as measured by personal consumption expenditures, increased 2.2% in the fourth quarter after surging 41.0% in the third quarter. Exports advanced 22.3% in the fourth quarter (59.6% in the third quarter), and imports (which are a negative in the calculation of GDP) increased 29.8% in the fourth quarter, following a 93.1% increase in the third quarter. Personal consumption expenditures dropped 2.63%; nonresidential fixed investment declined 0.54%; residential fixed investment rose 0.23%; exports dropped 1.47%; imports rose 1.33%; and nondefense government spending advanced 0.15%.
The federal budget deficit was a larger-than-expected $310.9 billion in February, following January's $162.8 billion deficit. The deficit is 32.0% higher than the February 2020 deficit of $235.3 billion. Through February, government outlays, at $559.2 billion, were 32.0% above the February 2020 figure, while receipts, at $248.3 billion, also increased 32.0%. The increase in government expenditures can be traced to a 125.0% jump in outlays for income security, an 859.0% increase in commerce and housing credits, and a 26.0% rise in health outlays.
Inflation/Consumer Spending: Inflationary pressures eased in February. According to the latest Personal Income and Outlays report, consumer prices edged up 0.2% in February after advancing 0.3% in January. Prices have increased 1.6% from February 2020. Excluding food and energy, consumer prices increased 1.4% over the last 12 months. Both figures are well below the Fed's 2.0% target inflation rate. Personal income fell 7.1% in February after climbing 10.0% in January, and disposable personal income dropped 0.8% following January's 11.4% jump. The decrease in personal income in February is primarily a reflection of stimulus payments received in January, which accounted for that month's soaring income estimates. Consumer spending declined 1.0% in February after advancing 3.4% (revised) in January. Over the last 12 months, personal consumption expenditures (consumer spending) dipped 2.7%.
The Consumer Price Index climbed 0.4% in February following a 0.3% rise in January. Over the 12 months ended in January, the CPI rose 1.7%.
Prices that producers receive for goods and services continued to climb in February, increasing 0.5% after advancing 1.3% in January. Producer prices increased 2.8% for the 12 months ended in February, which is the largest yearly gain since climbing 3.1% for the 12 months ended in October 2020.
Housing: The housing sector retreated in February, likely due to dwindling inventory and rising interest rates. Nevertheless, sales of existing homes fell 6.6% in February after rising 0.6% in January. Over the past 12 months, existing home sales increased 9.1%. The median existing-home price was $313,000 in February ($309,900 in January), up 15.8% from February 2020. Unsold inventory of existing homes fell 29.5% from February 2020 and represents a 2.0-month supply at the current sales pace, slightly better than January's 1.9-month supply.
New single-family home sales plunged in February. New home sales dropped 18.2% after climbing 4.3% in January. Sales of new single-family homes have increased 8.2% since February 2020. The median sales price of new single-family houses sold in February was $349,400 ($346,400 in January). The February average sales price was $416,000 ($408,800 in January). The inventory of new single-family homes for sale in February represents a supply of 4.8 months at the current sales pace, up from the January estimate of 4.2 months.
Manufacturing: The manufacturing sector took a step backward in February as industrial production decreased 2.2%, the first such decline since October. According to the Federal Reserve's report, industrial production advanced 1.1% in January. Manufacturing output fell 3.1% in February following January's 1.0% increase. For the first time in 10 months, new orders for durable goods decreased, falling 1.1% in February after climbing 3.5% in January. Transportation manufacturing led the decline, sliding 1.6% in February after posting five consecutive monthly increases.
Imports and exports:  Both import and export prices rose higher in February for the third consecutive month. The February rise was the largest advance since import fuel prices increased 15.2% in July 2020. Import fuel prices rose 6.5% over the past year, the first 12-month advance since a 13.2% increase in January 2020. For the 12 months ended in February, exports have fallen 5.4%, while imports have jumped 10.1%.
The latest information on international trade in goods and services, out March 5, is for January and shows that the goods and services trade deficit was $68.2 billion, 1.9% over the December deficit.
International markets: Inflationary pressures may be ramping up globally. February saw consumer prices increase in several nations, including France, Germany, Italy, Canada, China, and Japan. In the markets, the EURO STOXX Europe 600 Index gained about 4.1% in March; the United Kingdom's FTSE inched up 1.1%; Japan's Nikkei 225 fell 1.3%; and China's Shanghai Composite Index plunged nearly 4.0%.
Consumer confidence: The Conference Board Consumer Confidence Index® surged in March to its highest reading in a year. The index stands at 109.7, up from 90.4 in February. The Present Situation Index, based on consumers' assessment of current business and labor market conditions, increased from February's 89.6 to 110.0 in March. The Expectations Index, based on consumers' short-term outlook for income, business, and labor market conditions, rose from 90.9 in February to 109.6 in March.
Looking Forward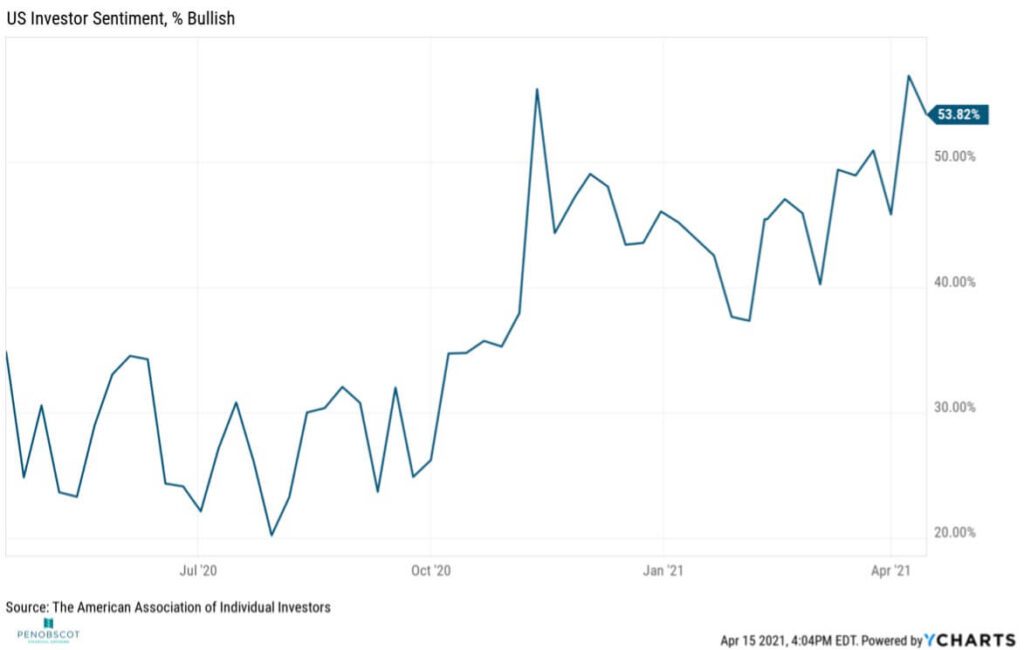 Stimulus – then more stimulus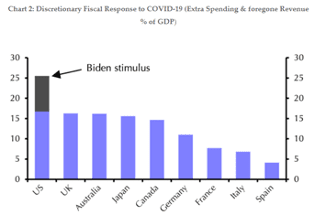 The run-up in US equity markets between election day and inauguration day was the largest we've seen for any such period.  In addition, once the Georgia senate elections were settled, locking in the 'blue wave' of a democrat-controlled house, senate, and presidency, markets took yet another leg higher.  It's hard to argue that this was not the result of much higher expectations of fiscal stimulus at the hands of a Biden administration now empowered with the legislative backing that followed. As we head into the second quarter, markets seem to have already priced in not only the impact of the latest round of pandemic support, but also a mammoth infrastructure package, a combination of which should lead to more substantial growth of the US economy than we've seen in a long time.
The extent of the pandemic recovery between the Trump and Biden administrations has now eclipsed in scope that of the other major western economies.
Vaccine vs. Variants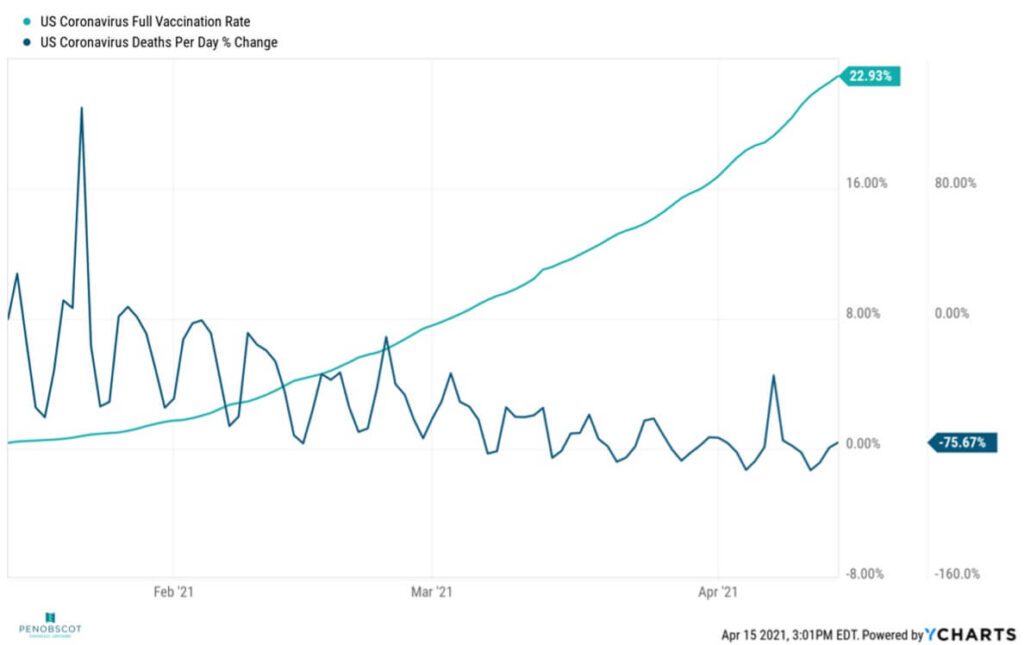 Further supporting further market growth will be the efficacy of vaccines in ending the COVID pandemic.  While variants that seemingly result in increasing cases begin to emerge, driving total case counts higher, the widespread rollout of vaccines is having a significant impact in mortality from the disease.  This is helpful because things like a vaccine failure or another spike in mortality are seen as possible shocks to the ongoing recovery.
Consumer Behavior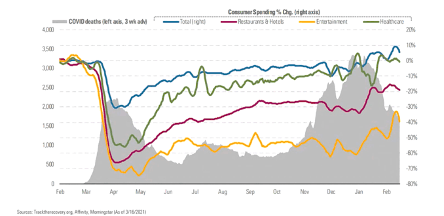 While we continue to see good improvement in areas of the economy, the reality is that the damage from the pandemic is going to still take a while to work its way out.
Employment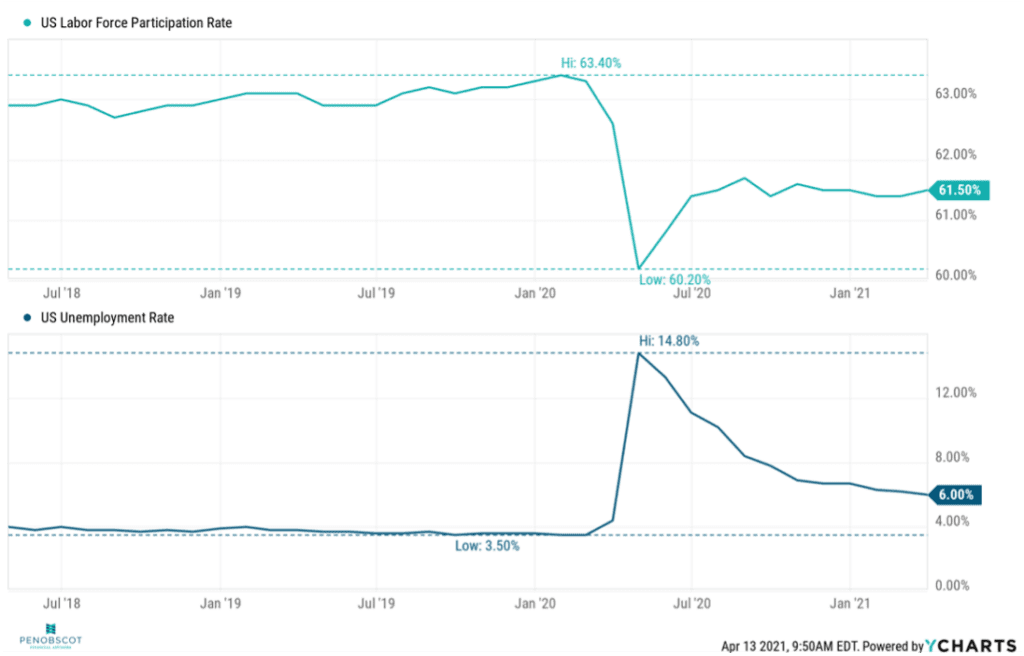 Labor force participation rate is still lower than pre-pandemic and unemployment is still at a relatively high level.
Stock vs. Bond Yields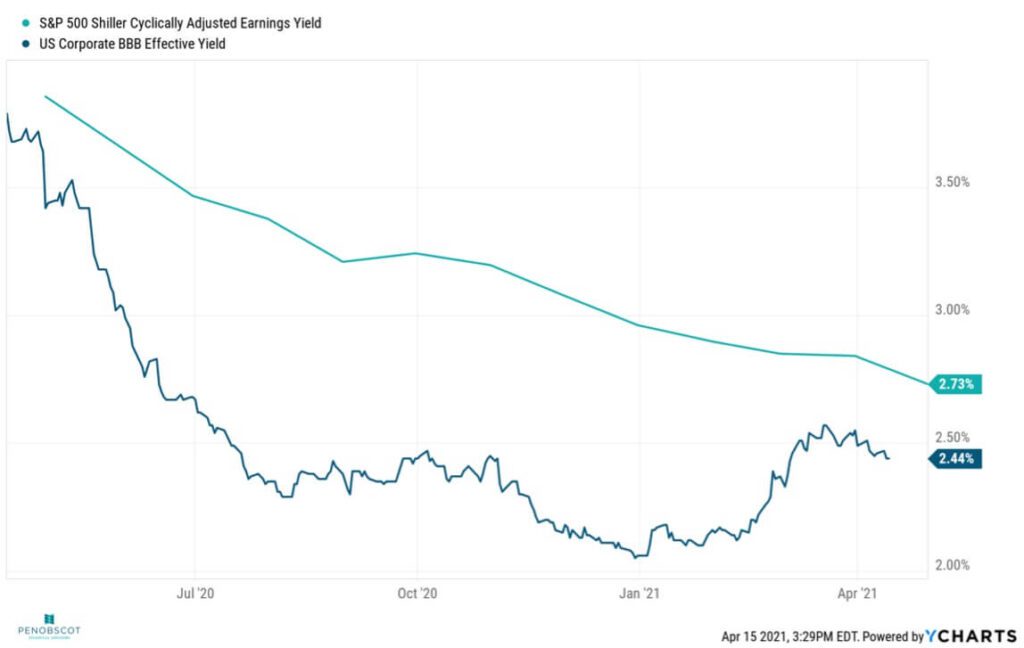 Another risk to this picture could arise if interest rates go up significantly.  One factor supporting stocks over the past year is that yield is difficult to find in other areas.  This has allowed stocks to retain high valuations relative to earnings.  If earnings don't manage to improve at their robust pace, and if yields increase on other investments like bonds, those forces could put stocks under pressure.
Inflation – Good or Bad?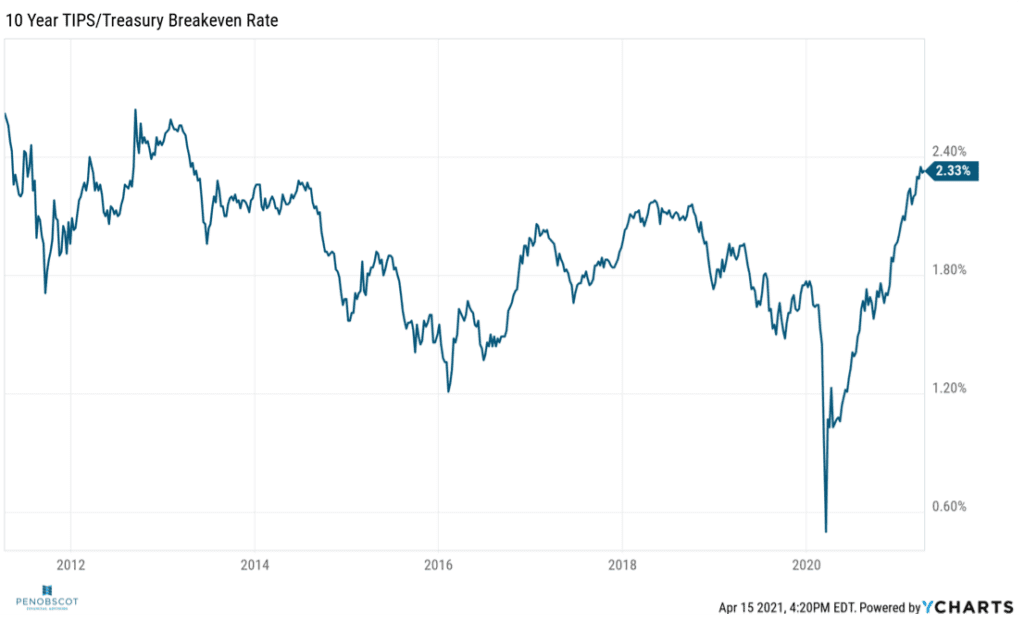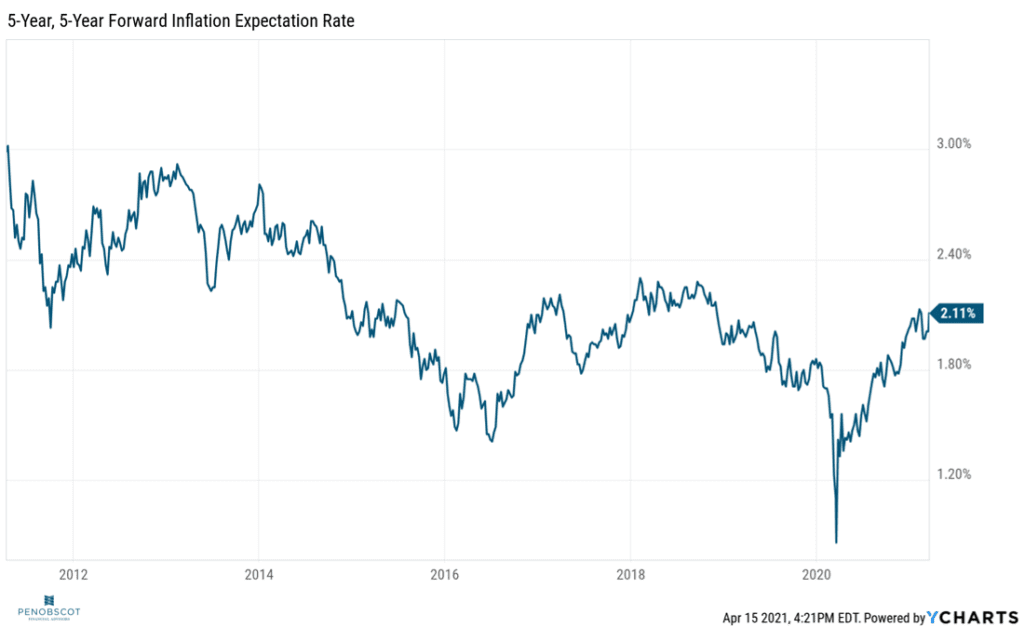 Inflation may be the greatest contributor to volatility in the second quarter.  One of the primary reasons for this is that the Fed has promised to keep rates low for the foreseeable future and many in the markets are looking at that promise as a substantial tailwind for stock performance.  If inflation increases beyond the levels already widely expected, it could force the Fed to raise interest rates sooner than later.  Currently, however, there doesn't seem to be a consensus view that we have significant inflation in our immediate future.  Increasing production input costs indicate that consumer inflation is likely to run at a slightly elevated level in the near term.  This is to be expected during a period of recovery from a recession.  The FOMC has laid out the expectation that they are willing to let inflation run a little hot, and they don't forecast that it will remain elevated. However, if inflation becomes more sustained at a higher level than is predicted in TIPS break-even rates and forward inflation expectations, the Fed may have to increase rates sooner than it is letting on.
The search for Yield in a tightening spread environment
While rising interest rates can have an impact on stock prices, both because they increase the costs of running a business where credit is involved and fact that they can make stocks less appealing in comparison to bonds, it is the fixed income category that is probably most directly impacted when rates go up.
The Fed has some capacity to hold short-term interest rates down, but longer durations, as we've seen over the past few months, can climb independent of that. Still, rates across the board are low relative to historical norms.  Not only are fixed income markets not rewarding longer durations very much, but they're also not providing much of an incentive to take on credit risk.  Credit spreads, the rewards we get for taking risk, have narrowed significantly in Q1.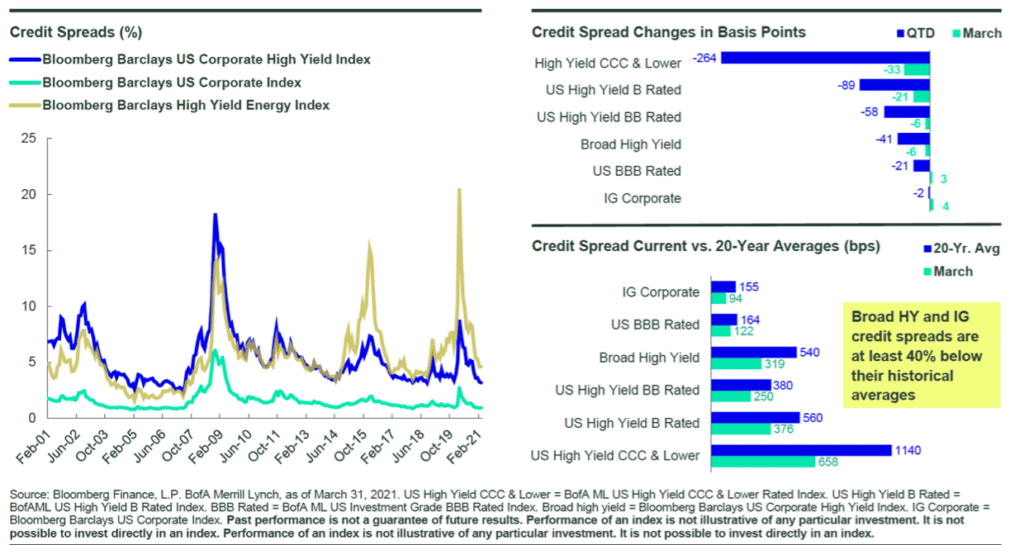 We continue to seek out opportunities to diversify into fixed income but are leaning further toward areas where risk is better rewarded and where duration is lower.  Floating-rate senior bank loans and Treasury Inflation Protected Securities (TIPS) have some of these qualities.   Additionally, non-US and Emerging Market debt provides opportunities to seek out areas where yield is higher and where a declining US dollar helps to magnify returns in dollar terms.
Now, more than ever, diversification is important within the fixed income sector.  Given inflation risks, the most 'secure' investments may also be the most exposed to purchasing power risk.
Inflation hedging and diversification bolsters interest in alternatives
Commodity prices have been on a bit of a roll for the past two quarters.  However, some assets, like gold, that have been seen as an inflation hedge have not held their value despite the building risk of inflation.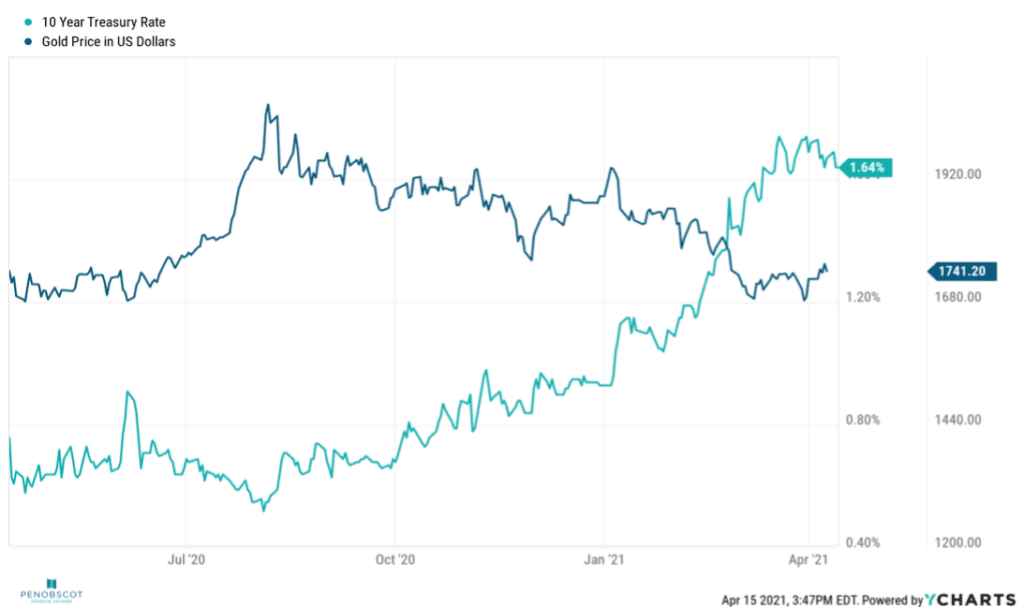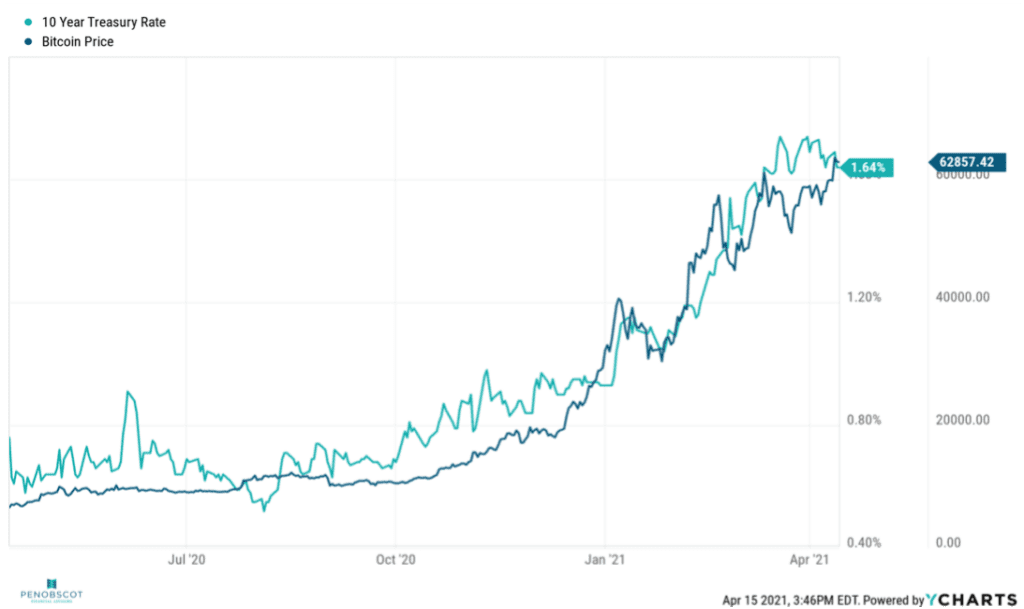 We continue to assess whether or not traditional stores of value like gold are becoming supplanted by virtual assets like Bitcoin.  We're not yet ready to identify which asset (gold, silver, Bitcoin, others) will become the dominant store of value in the world, but it is difficult to ignore the current trend with virtual currencies providing their holders with a wild valuation ride, but arguably with some ability to be used as a defensible inflation hedge.
DISCLAIMER:  The foregoing content reflects the opinions of Penobscot Financial Advisors and is subject to change at any time without notice. Content provided herein is for informational purposes only and should not be used or construed as investment advice or a recommendation regarding the purchase or sale of any security. There is no guarantee that the statements, opinions or forecasts provided herein will prove to be correct. 
---
Transcription
Disclaimer: The foregoing content reflects the opinions of Penobscot Financial Advisors and is subject to change at any time without notice. Content provided herein is for informational purposes only and should not be construed as investment advice or a recommendation regarding the purchase or sale of any security. There's no